Welcome to Deen Properties, Inc. - Hawaii Property Management
Aloha!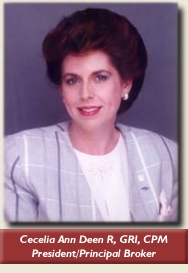 Thank you for visiting. This web site is designed to be your complete real estate resource. It has been built to assist you with all your needs. The selections within the menu on the left side panel will link you to information that will help answer your questions. We are always available to offer you personal one-on-one help with what most say is the biggest decision you will make in your life. If you have any questions please don't hesitate to call or e-mail us!
If you are looking to sell a home, buy a home or are an investor who wants to transfer property with minimum tax consequences and/or looking for a competent property management company who are certified property managers, we are the real estate company for you!
Selling A Home?
If you plan on selling your home, we will prepare a current market value so that you will get your home sold for top dollar and in a timely manner. Our marketing programs online and offline will give you the edge you need to sell your home. We don't just list your property, "WE WANT TO SELL IT! FAST!"
Buying A Home?
If you plan on buying your first home or have already experienced that wonderful feeling of ownership, we will take the time to listen to your needs and find your "DREAM HOME AT THE LOWEST POSSIBLE PRICE."
Investing?
If you are an investor looking for a competent residential property manager who will achieve the highest possible rents while keeping your expenses at a minimum, thus maximizing your income, you can stop looking, you've found us! We understand the infinite details involved in successful property management. And when you decide to sell the property or make an exchange for a property that pays a higher return on your investment, we are already involved and are there to help. We are familiar with and understand the workings of a 1031 real estate tax exchange and have many years of experience. We don't just manage your property, we treat it like our own. You will not need to look for another Real Estate company to sell or to transfer that property. Because we are already intimately involved with the management, we would be the best possible real estate company to sell it.
Need A Consultant?
If you are someone who prefers to have hands on and want to manage your own real estate, (although we don't advise it, as we think it is always best to have a professional manage your assets) we can help. We provide consulting in residential property management.
Thank you for visiting our site. Please bookmark us, and visit us often. We look forward to hearing from you.
Sincerely,
Cecelia Ann Deen
R, GRI, CPM
President / Principal Broker
Deen Properties, Inc.